General information
(Reference : Basic data by Ministry of Foreign Affairs)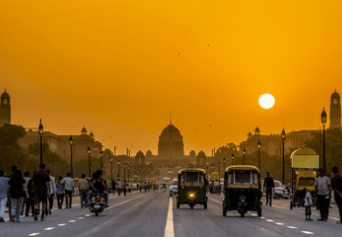 Land area : 328,7469km²
Capital city : New Delhi
Population : 1,428,600,000 (national population census in 2022)
Official language : Hindi, Tamil, English, and other authorized 22 languages
Religion : Hinduism 79.8%, Islam 14.2%, Christianity 2.3%, Sikhism 1.7%, Buddhism 0.7%, Jainism 0.4% (national population census in 2011)
Production merit and future prospect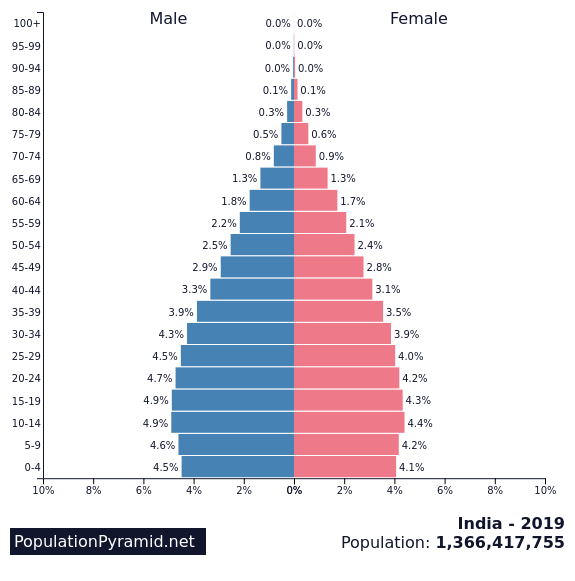 ①Rich labor forces and constitution of productive age population
・The number of population from the ages of 15 – 64 years old will increase until 2045, and the overall population will become the largest in the world by 2023 and that overtakes China.
 Reference : PopulationPyramid.net
②World leading cotton-growing district
・Deccan Plateau etc.
 With the share being number one in the world during the year of 2015-2016.
Local staff memo ①
・Batch production from thread to end-producta
・Contract with production FOB or CIF
※FOB (Free on Board) : Exporters pay for the shipment fees and insurance fees before the goods are loaded. Importers pay for the fees after goods are loaded.
※CIF (Cost, Insurance, and Freight) : Exporters pay for shipment fees and insurance fees.
However, in any cases, ownership of goods are changed from exporters to importers once goods are loaded onto the ships.
Introduction of production areas
City
Characteristics
Ludhiana
Panipat
Jaipur
Kolkata
Ahmedabad
Surat
Bangalore
Salem
Erode
Tirupur
Coimbatore
Karur
North
North
North
East
West
South
South
South
South
South
South
South
Cut and sew, General winter wear fabric
Home textile, Home furnishing
Screen print
Khadi silk
Polyester, Silk double yarn with 100 and 200 yarn count & Denim fabric
General polyester fabric
Silk, Bottoms factory
Yarn dyeing, Double yarn with 40 yarn count
Yarn dyeing, Print
Cut and sew
Spinning production area, 300 yarn count & SUVIN
Home textile, Home furnishing, double yarn with 20 yarn count for autumn-winter fabric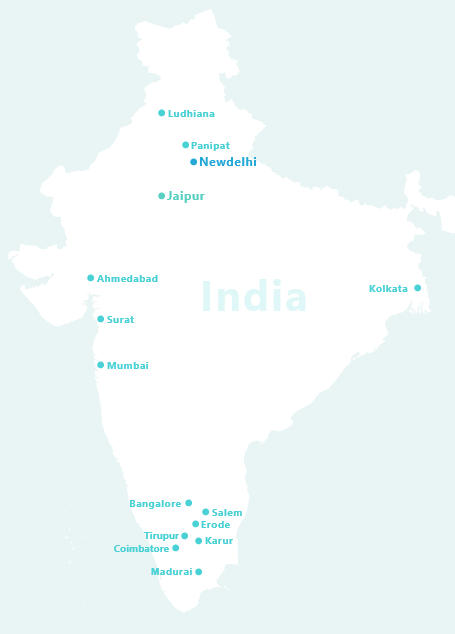 Local staff memo ②
Traditional clothing : Saree
Traditionally, women wear "saree" , which is a stitch-less garment with a length at the maximum of eight meters. For that reason, it can be worn in various ways depending on the occasion and purpose.
Most prominent festival : Diwali
Diwali is a five-day festival of lights that generally falls between mid-October to mid-November depending on the day of the new moon as well as celebrating the day goddess Lakshimi was born. Family members and invited friends celebrate the night with fireworks, food and sweets.

Nissenken supports business matching between Indian and Japanese companies in technical textile development
Nissenken implemented Memorandum of Understanding (MoU) regarding support for product certificate, export, and marketing of technical textile with Indian Technical Textile Association (ITTA) in April 2019. Working with the local companies, Nissenken has been improving quality of textiles through advice for textile companies' evaluation tests based on Japanese Industrial Standard (JIS) and International Organization for Standardization (ISO) and production and quality control and technical seminars. The Ministry of Textiles of India highly rated these activities and gave us Letter of Recognition in May 2019.
Nissenken will contribute to development of technical textile by supporting business networking between Indian and Japanese companies.
Reference : MoU implementation with ITTA
Letter of Recognition
MoU implementation with the Textile Committee
Jaipur Laboratory Guide
Since its establishment in 2014, Nissenken has been building a relationship of trust with Indian local companies in connections with textile and contributing to the growth of the industry.
Three advantages
①Correspondence of ISO testing
Nissenken Jaipur Laboratory is certified as a National Accreditation Board for Testing and Calibration Laboratory with ISO 17025:2005 and can carry out tests with JIS and ISO.
②Technical advice with cooperation of Japan and India
With the cooperation of the Indian and Japanese staffs, we promptly correspond to the client's and provide accurate technical advice.
③Consultation Services
Nissenken Jaipur Laboratory focuses on consultation including introduction of excellent Indian factories and advice for modification points and quality improvement.
Possible corresponding tests
Fabric test
・General test : Color fastness, Physical property, Dimensional change, Fiber identification, and Quantitative analysis of fiber mixtures
・Functionality test : Water absorption rate, Drying rate, Quick-dry, Water repellency, and Flammability
・Safety test : Certain Aromatic Amines and Free Formaldehyde
Product test
・Care label symbols, Washing resistance, Dry cleaning resistance, and Chlorine bleaching
We correspond with other tests for products being sold in Europe and the United States.
Nissenken Jaipur laboratory is certified with ILAC MRA and NABL.
・ILAC : International Laboratory Accreditation Conference
・MRA : Mutual Recognition Arrangement
・NABL : National Accreditation Board for Testing and Calibration Laboratories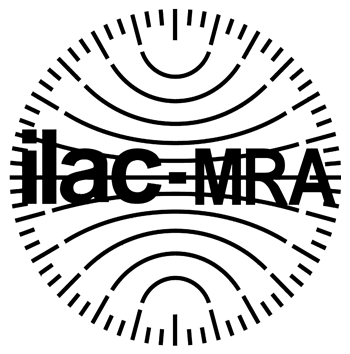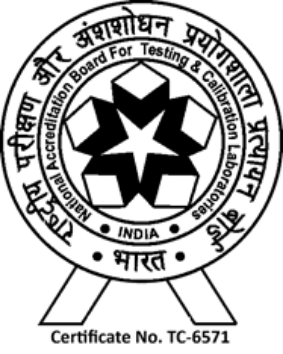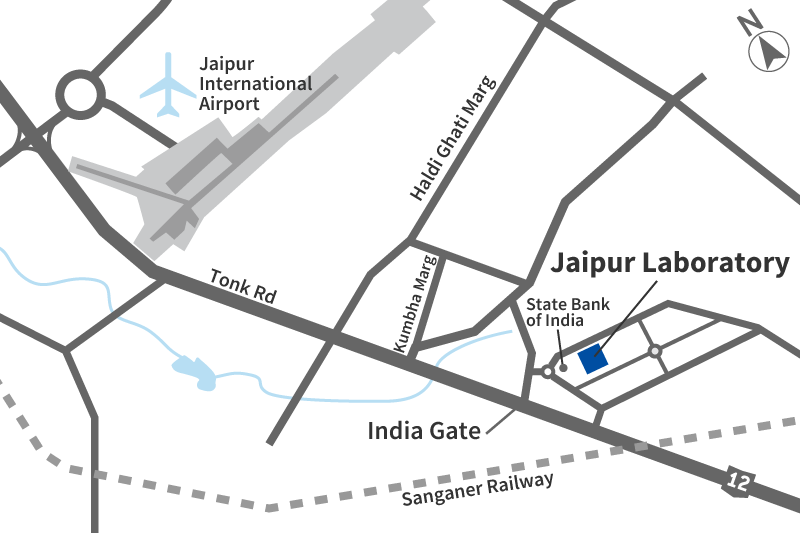 F-209, Epip, Sitapura Industrial Area, Jaipur, Rajasthan, 302022 INDIA
【 NISSENKEN QUALITY EVALUATION (INDIA) PRIVATE LIMITED 】
Tel : +91-141-3003680
Fax : +91-141-3003681
E-mail : jaipur@nissenken.or.jp
【Staff】
【General manager】
Tatsushi Fujikawa
Tel : +91-723-001-7116
【Staff in Japan】
Junji Iwata
Tel : +81-90-1627-4214
【Textiles Testing】
Varun Goud : +91-782-100-8011

For inquiries about testing services.

For inquiries about OEKO-TEX® certificate.

For more information, please download the documents about our testing services.

For the frequently asked questions.
Inquiries about tests, laws and standards etc.
General affairs・Management divisions

03-3861-2341
Business hours 9:00~17:00
(Mon. – Fri. except national holidays)