Nissenken is a partner that provides a solution for quality issues of many products including textile products.
Company Name
Nissenken Quality Evaluation Center
Establishment
December 6, 1948
Representative
President : Nobuhiro Komada
Network
【 Head Office 】


8F, 2-16-11, Kuramae, Taito-ku, Tokyo 111-0051 JAPAN


【 Business Head Office 】For inquiries regarding tests etc.
Tel : +81-3-5830-6030 

Fax : +81-3-5830-6095


【 Management Head Office 】For inquiries regarding general affairs・management divisions
Tel : +81-3-3861-2341 

Fax : +81-3-3861-4280

 E-mail : pr-contact@nissenken.or.jp

【 Japan 】
■OEKO-TEX® Laboratory
■Tokyo Laboratory
[ Kuramae Lab / Tateishi Lab / Yoyogi Branch Office / Ebisu Branch Office / Ryomou Branch Office ]
■Chubu Laboratory
[ Testing Center / Tokai Branch Office / Hamamatsu Branch Office ]
■Kyoto Inspection House
[ Testing Center ]
■Osaka Laboratory
[ Testing Center / Honmachi Branch Office / Namba Branch Office ]
■Nishiwaki Inspection House  [ Testing Center ]

【 China 】
■Shanghai Laboratory
[ Testing center ]
■Nantong Laboratory
[ Testing center / Garment Inspection Center / Fabric Inspection Center / Zhangjiagang Branch Office ]
■Nantong – Chong Chuan Laboratory
[ Testing Center / Garment Inspection Center ]
■Nantong Renminlu Laboratory
[ Testing Center / Garment Inspection Center ]
■Wuxi Laboratory [ Testing Center ]
■Rudong Inspection Center
■Nantong Gangzha District Inspection Center
■Yantai Laboratory
[ Testing Center / Inspection Center / Qingdao Branch Office / Dalian Branch Office ]

【 Vietnam 】
■Ho Chi Minh Laboratory Testing Center
■Ho Chi Minh Branch Office

【 Cambodia 】
■Phnom Penh Inspection Center
■Phnom Penh Branch

【 Myanmar 】
■Yangon Laboratory [ Inspection Center ]

【 Bangladesh 】
■Dhaka Laboratory [ Testing Center ]

【 India 】
■Jaipur Laboratory, India [ Testing Center / Delhi Branch Office / Panipat Branch Office ]

For more information, please refer to "

Locations

"
Main Work
■Fabric testing
To test fundamental properties of fabrics like color fastness, strength, dimensional change, fiber mixture, etc.

■Textile product testing
To test textile product like garments and sundries. Appearance, sewing testing, care label information confirmation, dimensional change, surface appearance change, etc.

■Fabric inspection / product inspection
Check the appearance and dimensional change of the cloth, ready-made garment and sundries.

■Sundries / Toys testing
To test the strength, functionality, and safety of shoes, bags, belts, stuffed toys, curtains, etc.

■Functionality evaluation
To test amenity and hygiene property of fabric like water resistance, warmth retaining property, air permeability, opacity, antibacterial activity, anti-mould activity, anti-virus activity, etc.

■Safety testing
To test the harmful chemicals inside textile product like certain aromatic amine, formaldehyde, heavy metal, pH, etc.

■QCS — Quality consulting service
To offer consulting service related to making care label such as to supply customers with advice and proposal for writing care labeling, improving appearance, sewing and quality of products, etc.

■Anti-disaster and safety evaluation
To assess the high visibility property related to anti-disaster and safety property such as high visibility clothing, retroreflective material, luminous evacuation guidance sign, evacuation guiding system, etc.

■Foreign standards
To carry out testing in accordance with foreign standards like ISO (International Standard Organization), GB(China), ASTM, AATCC(America), etc.

■Certificated and authorized testing
To test in accordance with the external standards like Eco-leather, SEK mark, Wool mark, etc.

■OEKO-TEX® certification
To issue OEKO-TEX® STANDARD 100, ECO PASSPORT, STeP, and MADE IN GREEN. OEKO-TEX® is a world comprehensive standard to evaluate safety of textile and related products.
About logo mark
Nissenken changed from incorporated foundation to general incorporated foundation in March 1, 2012. Now the name of it is [General Incorporated Foundation-Nissenken Quality Evaluation Center]. At the same time, the logo also changed new.

The close connection among consumers, products and makers conveys our faith in safeguarding life, which is really the reflection of Nissenken's mission. The circle signifies the rotation of the Earth and also implies our ceaseless desire to explore the world.
Acquisition of ISO
ISO 17025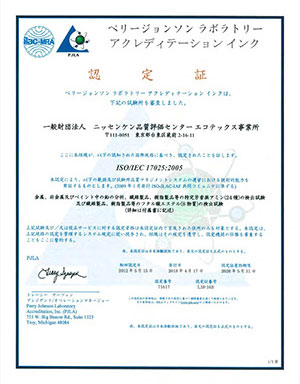 OEKO-TEX® institute was officially accredited with "ISO 17025:2005" in May 5,2012. ISO 17025 is the certification awarded after institute passed the overall assessment of laboratory management system and test technology.
In other words, it is the OEKO-TEX® institute's more than ten years' experience got from safety certification that plays a significant role in acquiring it.
Nissenken, aimed at protecting confidence, safety and health for customers, will keep contributing our effort to further improve the safety and reliability of textile industry.
ISO 9001
In March, 2012, four sites of Nissenken(Tokyo laboratory, Chubu laboratory, Kyoto inspection house and Osaka laboratory)were accredited with ISO 9001: 2015 which needs to be recognized from quality management, quality guarantee to testing and auditing. In order to satisfy customers' demands, we will double our effort to improve quality management, keep up with the technology development and make sure to supply accurate and efficient service.
Service
Besides the general fabric and garment tests, we perform tests for functionality, sundries and toys as well as fabric inspection.
Our specialists can correspond with everything from quality checks/advice to label advice, suggestions for corrections/improvements, employee training and workshops etc..
In addition to the Southeast Asian region, we have established a location in Tokyo to contribute to quality improvement.
With a global network of 43 laboratories/offices in 7 countries/regions, we support from test and inspection requests to after the tests are conducted in both Japanese and local languages.
OEKO-TEX®
OEKO-TEX® consists of 18 independent research and test institutes in Europe and Japan. They are responsible for the joint development of test methods and limit values which form the basis for our standards.

OEKO-TEX® Laboratory
6F, 2-16-11, Kuramae, Taito-ku, Tokyo, 111-0051 JAPAN
Tel : +81-3-5809-2810
Fax : +81-3-5809-2820
E-mail : oeko-tex@nissenken.or.jp
Nissenken has laboratories including testing center and garment inspection center and offices inside and outside of Japan.

For inquiries about testing services.

For inquiries about OEKO-TEX® certificate.

For more information, please download the documents about our testing services.

For the frequently asked questions.
Inquiries about tests, laws and standards etc.
General affairs・Management divisions

03-3861-2341
Business hours 9:00~17:00
(Mon. – Fri. except national holidays)