General information
(Reference : Basic data by Ministry of Foreign Affairs)
Formal name : Socialist Republic of Viet Nam
Land area : 329,241 km2
Capital city : Hanoi
Population : 93,700,000 (Vietnam Bureau of Statistics in January 2017)
Language : Vietnamese
Religion : Buddhism, Catholic, Caodaism etc.
Introduction of production
Full items can be produced from tops to bottoms mainly fabrics and jerseys. Particularly,
the technology of sewing fabrics has improved to the extent that it is no different from Japan.
Knit production centers are concentrated in Hanoi and Haiphong.
Local staff memo ①
Production background
In 2016, Vietnam Textile Association established the Environmental Committee and participates in action plans for Green the Textile and Apparel Industry group.
In addition, we launched a green project for the textile industry in collaboration with WWF (World Wide Fund for Nature). In this project, domestic textile companies improved river basin management and water quality and is intended to encourage to use sustainable energy. While doing business with companies around the world, not only product quality but there is also a need to improve production processes that are more environment friendly. This trend is expected to accelerate in the future.
Minimum wage
It's rising every year and there is a difference between urban areas and other regions.
<Reference value> Monthly minimum wage : 180 USD in urban area / USD 125 other regions
(as of January 2019, Trading Economics)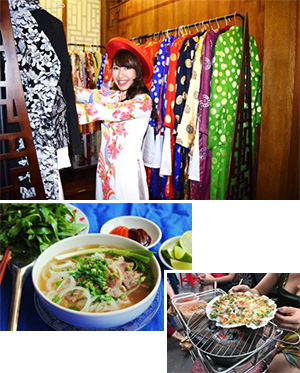 Local staff memo ②
Traditional clothing : Ao Dai
It is said that it was created with the inspiration of fashion from Paris, and the influence of
Chinese Cheongsam. It's often worn together with conical knitted shades and turbans.
New year celebration : Tet holiday
Tet holiday means " Feast of the First Morning of the First Day ". During the period of Tet, "Banh chung" a Vietnamese style chimaki is an indispensable dish for every Vietnamese family. It is made from glutinous rice, pork, mung beans and wrapped with banana leaves.
For products produced in Cambodia, is it possible to have it tested in Ho Chi Minh and inspected in Phnom Penh?
There is a test reception desk at Phnom Penh Inspection Center for Ho Chi Minh testing center in Phnom Penh Inspection Center and has test records. We will flexibly correspond to your requests.
Ho Chi Minh Testing Center Guide
Since its establishment in 2017, Nissenken has been supporting quality control for clients producing in and around Ho Chi Minh City.
Three advantages
① Respond quickly through All Nissenken Network
We provide test and inspection service in cooperation with Phnom Penh Inspection Center in Cambodia. And aiming for the fastest in Vietnam for delivery time, sales support and corresponding to inquiries etc.
② Provide the same service as Japan
Of course, general tests are conducted; however, we also correspond to azo test and sundries test etc. and provide advice for total test service for manufacturing and quality.
③ Improved convenience by original WEB system
Nissenken's web system allows you to check the test result and the progress of the test request etc.
Possible corresponding tests
・Fabric test
・General test : Color fastness・Physical Performance・dimensional change・fiber identification, and mixture rate
・Functionality test : Wash-and Wear properties・Water absorption rate・Drying rate・Quick dry・Water repellency, and Flammability
・Safety test : Certain Aromatic Amines and Free Formaldehyde
・Product test
・Care label symbols : Washing resistance・Dry cleaning resistance, and Chlorine bleaching・Oxygen bleaching and bag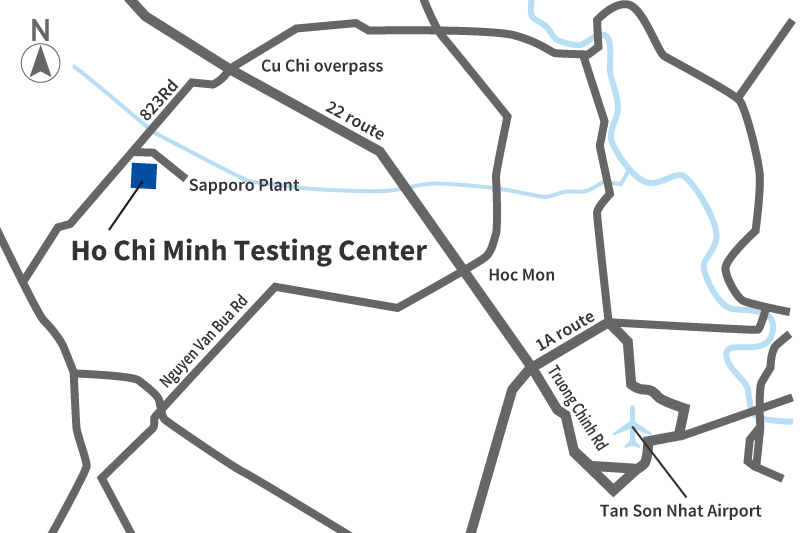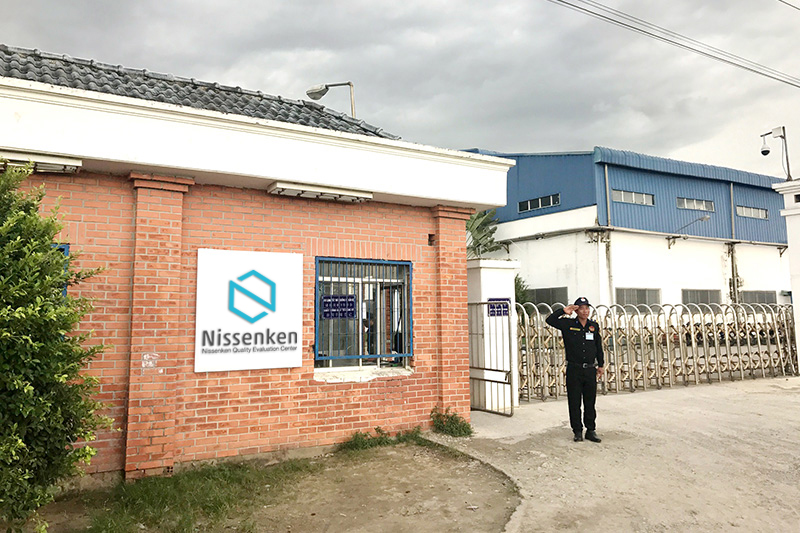 Ho Chi Minh Testing Center
New Workshop 2, C Lot, Street 3, Anh Hong Industrial Zone, Duc Hoa III, Duc Hanh 2 Hamlet, Duc Lap Ha Commune, Duc Hoa District, Long An Province, VIETNAM
【CONG TY TNHH NISSENKEN VIET NAM】
Tel : +84-272-3774317
Fax : +84-272-3774397
E-mail : hochiminh@nissenken.or.jp
Center manager : Akira Nakatsu Tel : +84-363-996-947
Lai Thi Ut Tel : +84- 971-535-031

For inquiries about testing services.

For inquiries about OEKO-TEX® certificate.

For more information, please download the documents about our testing services.

For the frequently asked questions.
Inquiries about tests, laws and standards etc.
General affairs・Management divisions

03-3861-2341
Business hours 9:00~17:00
(Mon. – Fri. except national holidays)