Launch of U.S. standard evaluation test for medical protective clothing / 医療関係防護服の米国基準評価試験案内(英語)
2020/09/01
Protect healthcare professionals from blood and body fluids of the infected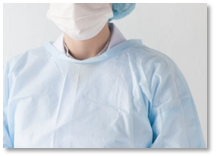 Nissenken Quality Evaluation Center (headquartered in Tokyo's Taito Ward, President: Nobuhiro Komada) has recently begun a global evaluation test based on U.S. standards for one of the medical supplies (Isolation Gown).
Healthcare professionals who protect people and medical supplies that protect healthcare professionals
The global spread of the new coronavirus infection has renewed awareness of the importance of medical supplies. Every time the shocking news of "medical collapse" was reported, the shortage of high-performance masks and gowns worn by healthcare professionals has also been addressed. Medical supplies to protect people and their healthcare professionals.
Barrier performance of isolation gowns effective in preventing secondary infection
Healthcare professionals are at constant risk for secondary infections caused by blood or body fluids in infected patients; therefore, the American Academy of Medical Instrumentation (AAMI) has established liquid protection performance standards for water, synthetic blood, bacteriophages, and other substances. This guarantees the barrier properties of protective clothing for medical use, which is incredibly useful in prevention of infection and in-hospital pandemics among healthcare professionals and it is a standard used globally. The WHO (World Health Organization) has clarifying views that collateral performance such as medical gowns "must have been tested with penetration resistance test against blood, body fluids or blood-borne pathogens."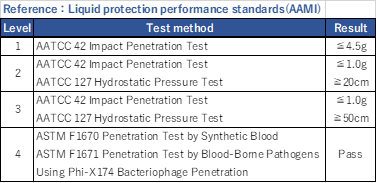 Nissenken are taking orders for two types of tests: AATCC 42 Impact Penetration Test and AATCC 127 Hydrostatic Pressure Test. The test is included in the "AAMI PB70" standard, which shows the barrier performance.
We have received inquiries and requests for this test at our Tokyo laboratory. Please feel free to contact us.In addition, we would appreciate if you can tell us whether it is an AATCC or PB70-compliant test at the time of your
request.
If you have any questions or inquiry, please feel free to contact us.

各種試験・検査に関するお問い合わせ、ご依頼はこちらから承ります。

エコテックス®認証に関するお問い合わせ、ご依頼はこちらから承ります。

各種試験・検査に関する技術資料が、こちらからダウンロードいただけます。

試験・検査などで、皆さまからよくいただく質問と回答をまとめています。
各種試験・関係法令等について
総務・管理部門

03-3861-2341
受付時間 9:00~17:00(土日・祝日除く)