General information
(Reference : Basic data by Ministry of Foreign Affairs)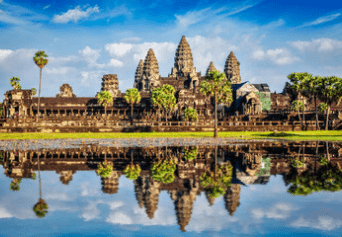 Formal name : Kingdom of Cambodia
Land area : 1,810,000 km2
Capital city : Phnom Penh
Population : 161,000,000 (estimation by UNF in 2017)
Language : Khmer
Religion : Buddhism (Some minorities are Islam.)
Introduction of production
We produce both casual tops and bottoms from fabric to jersey and knitwear and skillful at wash processing mainly for denim. For knits, fulling of cashmere and dyeing Acrylic products is also possible.

Local staff memo ①
Most of the fabric and secondary materials are imported from China; therefore, all materials that can be produced in China can be sewn.
In addition, the minimum wage is on a rise.
<Reference value> Monthly minimum wage : 190 USD (as of January 2020, Trading Economics)
Local staff memo ②
Traditional clothing : Sampot, Chang kben
It's a long, rectangular cloth that wraps around the lower body like pants and often seen at weddings. Cambodia has such beautiful fabrics that are processed by great dyeing and textile techniques, and these traditional clothings are made from them.
New year celebration : Khmer New Year
Khmer New Year is filled with playing games and free concerts at night. A popular food for New Year in Cambodia is curry. It may be surprising, but curry that has been slow simmered over time with a lot of herbs, meat and vegetables is loved by all generations.
Cooperation with Ho Chi Minh testing center
For products produced in Cambodia, is it possible to have it tested in Ho Chi Minh and inspected in Phnom Penh?
There is a test reception desk at Phnom Penh Inspection Center for Ho Chi Minh testing center in Phnom Penh Inspection Center and has test records. We will flexibly correspond to your requests.
Phnom Penh Inspection Center Guide
Since the establishment of Phnom Penh Inspection Center in 2015, we support quality control for customers who manufacture in Phnom Penh city and its suburban area.
Three advantages
One-stop service from garment inspection to distribution process and testing
①Boasts a capacity of about 150 staffs and capable of 15,000 pieces per day.
There are many sewing factories nearby, making it a great location and 3km to Phnom Penh International airport.
②Garment inspection is conducted for both on-site at the manufacturing factory and when the products are brought into Nissenken inspection center.
For products brought in, we will meet a wide range of customer needs such as inspection, meter reading, X-ray inspection, tagging, and assorting.
③One-stop support combined with testing
Phnom Penh Inspection Center has a branch office for Ho Chi Minh Testing Center and corresponds to tests in the district of Cambodia. The samples are delivered to the testing center as needed and the results are directly informed by the test center.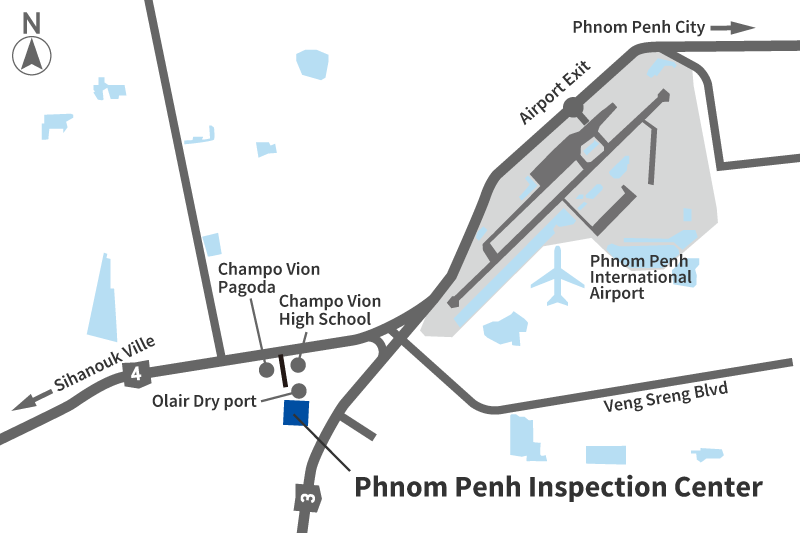 Phnom Penh Inspection Center
Olair Dryport / Warehouse No. 3, National Road No. 4, Prey Pring,
Sangkat Pousenchey Khan Dangkor, Phnom Penh, 120401 CAMBODIA
【 NISSENKEN COSMOS (CAMBODIA) LIMITED 】
Tel : +855-93-22-8673
E-mail : cambodia@nissenken.or.jp
*Phnom Penh Branch : for any questions regarding tests at our Ho Chi Minh Testing Center, please contact us below.
Tel : +855-93-22-8673
E-mail : combodia@nissenken.or.jp
Local Staff
Center manager : Yoshihiro Akaogi Tel : +855-17-597-068
Nuon Vanna Tel : +855-16-796-977 *speaks Japanese and English
Sang Chakriya Tel : +855-12-982-619 *speaks Chinese

For inquiries about testing services.

For inquiries about OEKO-TEX® certificate.

For more information, please download the documents about our testing services.

For the frequently asked questions.
Inquiries about tests, laws and standards etc.
General affairs・Management divisions

03-3861-2341
Business hours 9:00~17:00
(Mon. – Fri. except national holidays)